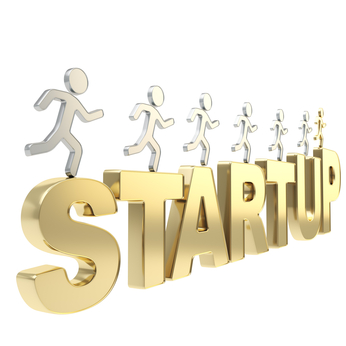 Starting a new business, or thinking about it?  If yes, then you may be confronted with the challenge of obtaining financing for your new business.   Many new business owners apply for small business loans and are surprised when banks either turn them down flat, or are only willing to finance even a small portion of the amount they are asking for.
So how do small businesses get both the working capital and equipment their new business will need to function?
Many start up businesses are turning to start up business equipment leases to get the equipment their business will need to be competitive in their market place. That allows them to use any unsecured bank financing that they obtain for working capital.
But equipment leasing isn't just for startup businesses!  Many established business use equipment leasing too!
What are the other advantages of leasing business equipment?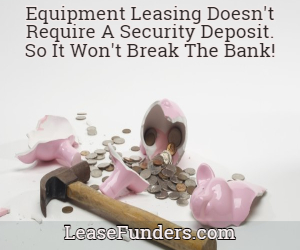 The main reason most of our clients come to us is to preserve their working capital. Whether they are a startup business or a small business with limited access to unsecured means of financing. The low cost of obtaining an equipment lease is a major draw for most business owners.
1. 100% Financing.
Compared to a bank equipment loan where they like for you to have 15- 20% down. Most equipment leases will only require 2 payments down. And will include cost of taxes, shipping, and installation in the lease.
2. Get Access to the Latest Equipment.
The low cost of entering into an equipment lease. Coupled with the flexibility of how payments are made allows you to purchase the latest equipment for your business.
3. Just Say No To Obsolescence!
Equipment you bought this year could become obsolete by the next few years. If you have invested your money on purchasing equipment, it will be impossible and impracticable to repurchase. On the contrary, leasing business equipment allows you to lease the equipment for a short term and turn it into the leasing company at the end of your lease term.
4. Frees Up Your Business' Line Of Credit.
The high price of equipment can eat up a big portion of your business line of credit. That leaves you with a very small percentage of credit line for other business expenses. If you obtain an equipment lease instead, you can put that money to work for you in the form of buying more supplies, marketing, or for hiring more workers.
5. Pay In Monthly Installments.
Equipment lease financing enables you to pay for the equipment as you use it. With equipment leasing, you don't have a large upfront security deposit. Unlike many bank loans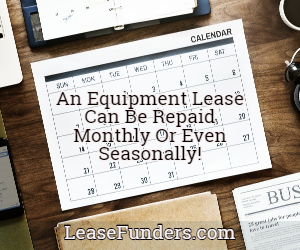 that require a 30% deposit.
With equipment leasing, you pay in monthly installments.  The typical lease is 60 months.  But you can choose to have a 12 month – 60 months.  You can also request special terms like quarterly payments, seasonal, or even annual payments.
Just keep in mind that many of the specialized rates are given to established business with good personal and business credit.
6. Enjoy Tax Benefits.
Leased equipment is 100% tax deductible. The money you save from taxes can contribute to your business budget. Every cent you can save counts, especially for start-up small businesses.
7. Never Complicated.
Applying for a small business equipment lease is fast and simple. You can shop around and compare different lease offers from the internet and submit your application online as well. Usually, you can expect to get approval within 24 to 48 hours. Once approved, you could obtain the devices you need within 2 to 4 weeks.
** Updated 09/02/2018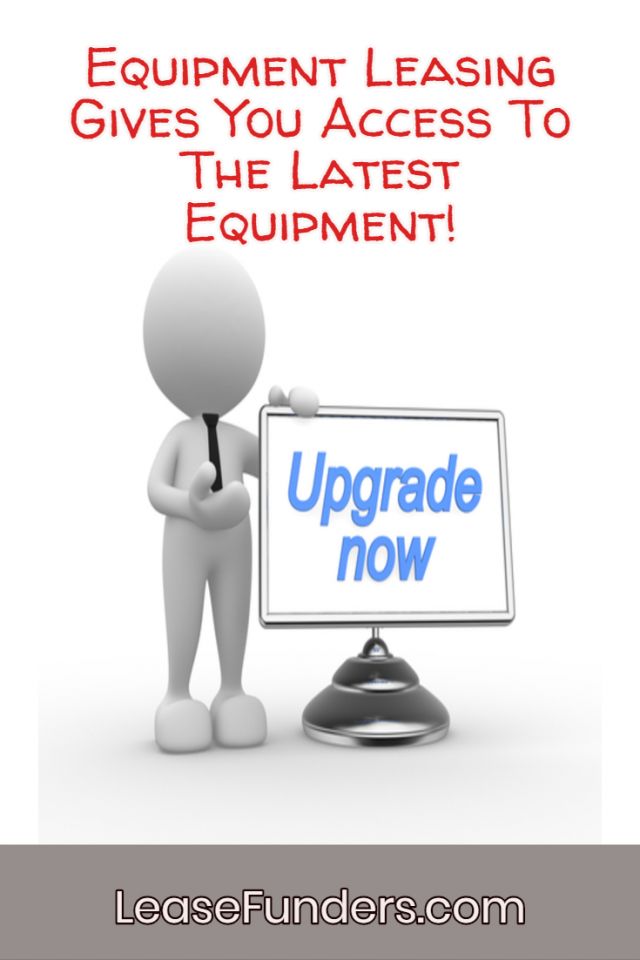 Liz Roberts has been in the business financing industry for 22+ years. She got her start in banking, went on to consumer and commercial collections and then onward to becoming a senior credit analyst for several small leasing companies. She has also been a freelance writer for 15 years and has written about business and consumer financing on several blogs.  She also maintains a low carb living blog.