Business owners must constantly find ways to improve their cash flow and find viable financing options to support their companies.
One efficient business financing option is called account receivables factoring or cash advance factoring. In this article, let's take a closer look at how the process works and how it can benefit your own business.
What is factoring?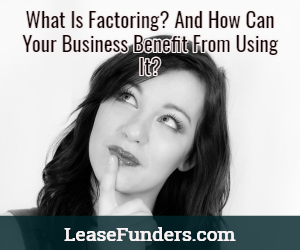 Factoring is when you sell your uncollected A/R (accounts receivable) to a factoring company. That will advance you (typically) up to 80% of their value, and keep 20% as a reserve.
Then the factoring company will collect on the receivables when they come due.  They will keep 1 – 4% of the receivables as their fee and return to you the balance of the reserve.
It's important to choose receivables only from your trusted customers to ensure on-time repayment.
How Does Factoring Work?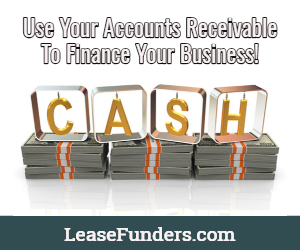 When in need of cash, a business owner can sell its accounts receivables to a factoring company.  Usually, receivables are payable within 30 to 60 days.
Instead of waiting for your customers to send in their payment, you can sell your receivables to a factoring company to get an immediate cash advance.
In turn, the factoring company will take over the collection of payment from your customers.
Most factoring companies offer up to 80% cash advance from the amount of invoices submitted.  Other lenders may offer a higher percentage, sometimes up to 95%.
What happens if your client doesn't pay the factoring company?
Again, it's important to only submit your BEST A/R to the factoring company.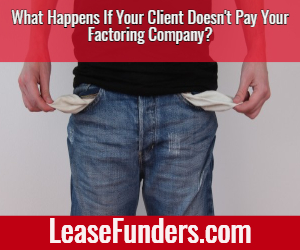 Most factoring is designed to be "recourse" factoring.  Meaning if your client doesn't pay within 90 days, the factoring company will expect you to cover that invoice.
Non-recourse factoring means that the factoring company will take the loss if your client doesn't pay.
Recourse factoring is cheaper because the risk to the factoring company is low.
If the reason why the client won't pay is because of a dispute based on your performance, or lack of, the factoring company may ask you to replace that invoice with another one of equal value.
Some factoring companies also have a division devoted to collections.  If you are spending to much time running after non-paying customers, you may want to outsource your collections department to the factoring company.
How Factoring Benefits Your Small Business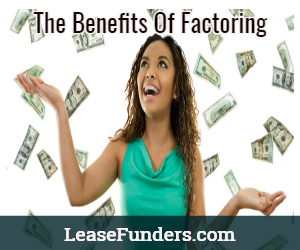 This particular method of business financing is actually utilized by many businesses in various industries, regardless of type and size.
Even big businesses may turn to factoring from time to time to meet financial challenges.  It doesn't depend on your credit or your businesses credit,  most factoring companies base approval on the strength of your CLIENTS credit.
More Benefits Of Factoring:
Fast – it only takes a few days to go from submitting your request to getting funding. The longest amount of time is the initial setup.  It can take 3 -10 days.  But once you are setup, each time you factor, it can take just a few hours to get the invoice approved and then funded.
Flexible – Once you are set up, you can factor as much or as little as you want.
Financing without debt – Many businesses like the fact that they are getting immediate access to funding without having to go into debt to do it.
Less stress – By using A/R financing, businesses no longer have to be responsible for collecting on their A/R.
Merchant Cash Advance
Many people confuse merchant cash advances with factoring.  But while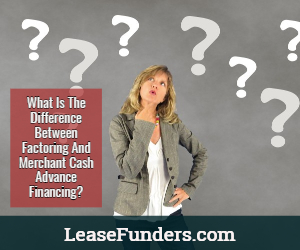 the concept is similar, they are 2 different types of financing.
A merchant cash advance will also give you a lump sum payment but it uses the average amount of your credit card sales instead of your accounts receivable.
Merchant cash advances (MCA) are also NOT a loan.   Approval usually isn't based on your personal credit although different MCA lenders may use different requirements.
MCA's have several different methods of repayment.  Some MCA banks require daily payments, others weekly or monthly.  The most common method is daily repayment.  What that means is they will take an agreed upon amount each day.
Weekly or monthly repayment is rare.  But there are lenders that we work with that offer it.  They are a bit harder to qualify for, but well worth checking out if daily repayment doesn't appeal to you.
What kinds of cashflow problems can be solved by factoring?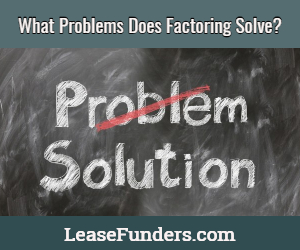 A business owner can turn to a factoring company for many reasons. The most common reasons are:
Limited cashflow
Cover payroll
Purchase materials or to accommodate a large bulk of orders
Hire or train more workers
Repair a broken machine
Bank turned them down for a loan
Unexpected expansion opportunities
Pay state or federal taxes
What Lenders are Looking For:
Factoring companies will be evaluating the quality of your accounts receivables, as well as the competitiveness of your company.  Some lenders look for businesses that reach the minimum required amount of sales or transactions per month.
Check first the policy of the factoring company before submitting your application. There are companies that only offer to finance established businesses or businesses that are at least 2 years old.
What you need to have when applying:
Make sure you have your companies A/R aging reports put together before you apply for factoring.
Some may ask for your most recent tax return.  Mainly because they will search to make sure you don't have any unpaid tax liens.  The federal government can put liens against A/R.  So if you owe back taxes, they may turn you down.
Articles of incorporation – they want to make sure that your company is properly set up and running with all the correct permits to legally operate.
Liz Roberts has been in the business financing industry for 22+ years. She got her start in banking, went on to consumer and commercial collections and then onward to becoming a senior credit analyst for several small leasing companies. She has also been a freelance writer for 15 years and has written about business and consumer financing on several blogs.  She also maintains a low carb living blog.