Business Line of Credit
What is an Unsecured Business Line of Credit?
An unsecured business line of credit comes in many forms.  They can be lines of credit, much like a personal loans, but in your businesses name.  Some are revolving lines of credit and some are not.
As the name suggest, these credit lines are unsecured.  Meaning the issuing bank or financial institution is not requiring any form of collateral (for example home, equipment or inventory).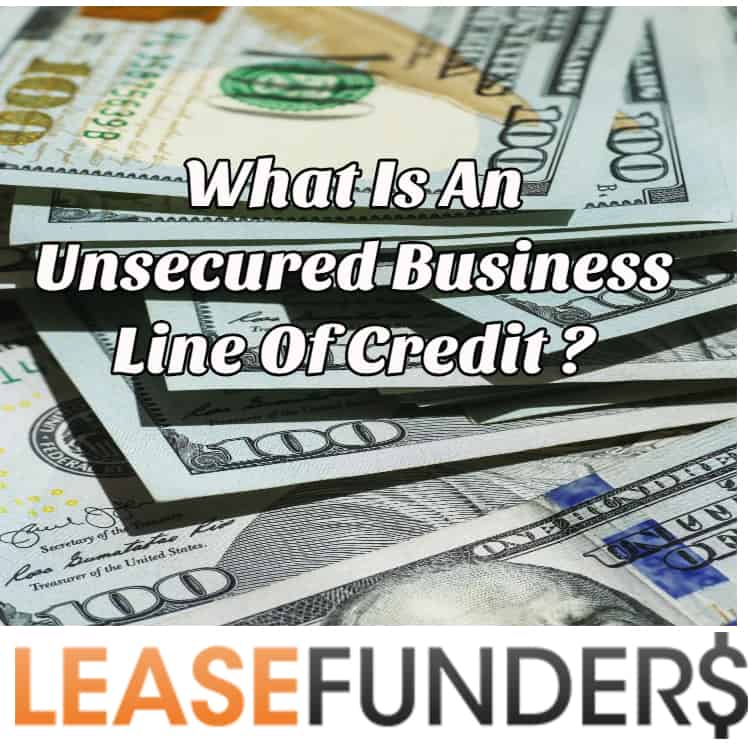 Business Line of Credit
Business line of credit requirements
Credit: Most business lines of credit will require that the business owner have good to excellent credit.  This type of financing can be based on the personal credit score of the business owner OR your businesses credit IF you have taken the time to build strong BUSINESS credit.
Just having an EIN (employer identification number) DOES NOT mean you have business credit!
Time in business:  Most banks like to see 3 or more years in business.  But that doesn't mean this type of financing is closed to startup businesses!  We have helped many startup business owners to qualify for this type of financing.
Ability to repay:  Many unsecured lines of credit are purely credit and time in business based.  So they won't require financial information such as tax returns.  From time to time they may ask for bank statements.  But thats usually when the applicant is "borderline" or doesn't meet all the lenders requirements.
Business Line of Credit
Finding the best business line of credit for your business
When looking for a business lines of credit its important to have a firm understand the lenders underwriting criteria.  We work with a network of lenders and match our clients business credit, personal credit and time in business with the right lender.
If the company you want to work with doesn't have their requirements plainly stated on their website, take the time to call or email them BEFORE you apply.
Business Line of Credit
How do business owners with bad personal credit qualify for low interest unsecured business lines of credit?
If you have bad personal credit. You can still qualify for an unsecured line of credit.  BUT you  must take the time to build your businesses credit.  When working with our bad credit business owners, I've found it can take 6 months to a year to help them build up enough credit to qualify for an unsecured line of credit of $25,000 or more without having to give a personal guarantee (no personal credit check). Request More Information
How do startup business owners obtain unsecured lines of credit?
There are 2 options for unsecured business lines of credit for startup.  If the business ower has good personal credit (720 and above) we have an unsecured line of credit program that they can qualify for.
While it does require good personal credit, It will not appear on the business owners personal credit reports and may not require a personal guarantee.
The other way that startup business owners can obtain an unsecured line of credit is that they build up their BUSINESSES credit.
Much like bad credit business owners, it will take 6 – 12 months of consistent credit building to qualify for an unsecured line of credit of $25,000 or more. Request More Information
Business Line of Credit
We can help you build credit in your BUSINESS NAME! Business Line of Credit $25,000 – $150,000
Too many business owners know the pain of using their own credit to finance their business.  In fact, most of our bad credit equipment leasing clients once had excellent credit!
What went wrong?
They financed their business using their personal credit and when things got a little lean, their personal credit to the hit.  Now of course, they NEED financing but only subprime banks will take the chance on them.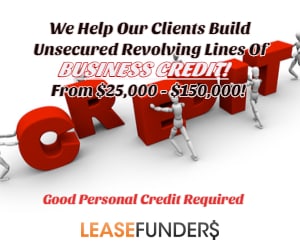 Business Line of Credit
Why it's important to build business credit.
Separates your personal finances from your business. As we stated above, many of our bad credit clients once had good to excellent credit.  But a slow period in their business resulted in late payment on their personal credit.
No collateral required – not all businesses have the equipment or real estate they can use as collateral.  Or maybe you just don't want to put your home or business equipment up as collateral.  By building your business credit NOW, it will be there when you need it.
More banks are looking at your business AND personal credit scores – Did you know even the SBA is looking at a businesses BUSINESS credit and the business owners PERSONAL credit when making approval decisions?  WIth strong business credit, it can help you get approved for your SBA loan when you are a borderline candidate.  More and more banks and finance companies are looking at BOTH.  And if you build your business lines of credit correctly, you will find it easier to get approved for other types of business financing.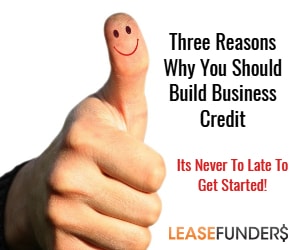 Request Your Free Consultation!
If you have any questions
please call 1-888-308-7160